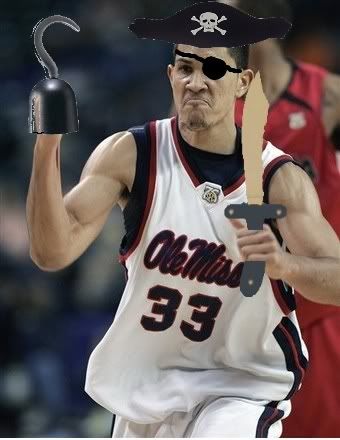 All the rumors surrounding David Huertas
came to fruition today
as he's officially left the team, joining the
Quebradillas Pirates
. It's yet another blow to the most snake-bitten team I've ever seen. Coupled with Malcolm White's unexpected departure, this is a real hit to the depth of the team as Huertas was going to be a real candidate for SEC 6th Man of the Year
playing behind
Terrico White and Chris Warren
next season
.
I really don't know what to say about David's departure. It's not as a big a loss for us as Malcolm's departure as we have proven depth at his position. He was certainly an enigma as he put together some of the best and worst games I've seen in my 15 years of attending Ole Miss basketball games. He's one of the most openly emotional players to wear the red and blue in recent years and honestly believes he's fouled on every shot he takes. His size along the perimeter will certainly be missed.
While I'm certainly not attempting to state this as fact, I wonder if left the team as he knew he'd be coming off the bench next year. He and AK have always had something of a tense relationship as is obvious to anyone who sits on the east side of Tad Smith. While each party downplays it in the media, you have to wonder how strained it was.
Another side of me wants to believe him when he says that
he just wants to play basketball and be near his family
. He's been in school four years and won a national championship. Next year's team would certainly be the most talented Ole Miss team he would've been on, but another national title was not in the future.
Regardless, I wish him well. Like so much of Ole Miss athletics, he was beautiful at times and remarkably frustrating at others.